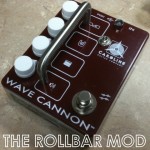 As you may know, our friend Mark Karan has a very crowded pedalboard. So much so that sometimes he has trouble turning his Wave Cannon off and on without hitting the volume knob.
We came up with a simple solution we're calling the "rollbar mod". A simple drawer pull, installed onto the chassis of the pedal, keeps the knobs clear of your stomping foot, while allowing us to preserve our unusual (ahem, exceptional) control layout. Plus, as Pat likes to say, it makes the pedal look like some Gorillaz souped up dunebuggy vehicle.  We gut your pedal, modify it, and ship it back to you for $30. It's a simple fix, but it does take time away from other things we could be doing.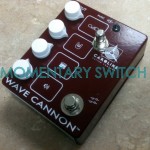 By popular demand, we are also offering the option of a momentary foot switch installed into a Wave Cannon Standard or Custom. The charge will also be $30 shipped. For our Wave Cannon Custom owners, we can relocate the mini toggle as well, so you have the option of momentary "havoc", or flipping the switch and having the pedal stay in havoc mode.  If you'd like us to do both mods, it will run you $50. Most of the time and trouble of doing these is really taking the pedal apart and putting it back together without hurting anything (or ourselves).
Shannon put together this video of Philippe installing the "rollbar" onto Mark Karan's pedal. If you'd like us to do the same for yours, email us if you are interested.  As our Columbia friends in Say Brother sing in the video: "All I Got Is Time".