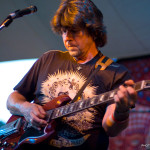 There are days when all the trouble pays off. We've been proud that our artists and customers so far have not only been kick ass players, but really cool people as well. Such a description could describe Mark Karan, a phenomenal player and class act who made our day with his enthusiastic email (as well as a signed photo for a friend).
Some background on Mark Karan, if you didn't know: before his membership in the extended Grateful Dead family, Karan shared his guitar playing and vocal gifts with the likes of Dave Mason, Delaney Bramblett, the Rembrandts, Paul Carrack, Huey Lewis, Sophie B. Hawkins and Jesse Colin Young. Karan was then asked to fill the giant shoes of a beloved rock icon when he was tapped to play lead guitar in The Other Ones, the post-Jerry Garcia version of the Grateful Dead. Since 1998, Karan has anchored the lead guitar slot in Bob Weir & Ratdog, tours as the frontman and lead guitar player for Jemimah Puddleduck, and is a noteworthy solo artist who released his debut "Walk Through the Fire" to critical acclaim in 2009.
This is also a guy who was diagnosed with throat cancer in 2007, didn't let it get him down or negative, beat the sickness, and got right back out there doing what he loves. Karan is a fantastic player with terrific melodic sense, awesome tone, and maybe some of the sweetest dynamics out there. While lots of people have chops, Mark Karan understands expression – the result of plenty of practice and musical knowledge seasoned by countless stage hours in front of thousands of fans.
It made our day to receive these messages from Mark. First: "JUST tried the cannon for the first time… and WOW!  I was just messing it w/lo-gain settings to see about playing it for a radio broadcast tomorrow (80 stations, 250,000 listeners!), and… yes please. i'm pretty sure this will become a staple for me."
Then several hours later: "The more I mess with the pedal, the more I like it!  I started out looking for what is IMO the hardest task a pedal can be asked… feed a clean amp and create a believeable, good sounding & FEELING semi-dirty, pushed amp sound.  It delivers. Then I started exploring the gainier settings and the voicing knob. I just love what this thing does. it is an amazingly musical and versatile pedal. All I can say is… yes please!"
All we can say is "thank you" both to Mark, and the local players here in Columbia who encouraged us to make the best, most versatile rock and roll pedal we could. For your listening pleasure, appreciate this sample of Mark's fine work below, and check out his site by clicking here for more info on this terrific artist.