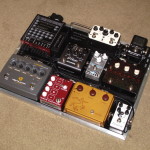 We got a great picture from Mark Karan (Bob Weir & Ratdog, Jemimah Puddleduck) of his new "go-to" touring pedal board gorgeously put together by Vertex Effects Systems. Our Wave Cannon™ joins a collection of superb sonic tools from top makers including Alfonso Hermida, Klon, Strymon, Hartman, and Catalinbread.
More info on this board after the jump.
The next time you overhear some know-it-all holding court at the bar or behind the counter at the guitar shop saying inanities like "trust me dude, what you need to buy is one of those digital multi-effects processors, cause that's what the real pros use", you will know better. Each of these products is a specific tool for a discriminating player, much like the cutlery of a master chef, the paint colors of a serious artist, or the gadgets that Morgan Freeman would round up for Christian Bale's Batman.
The first time I heard an Alfonso Hermida overdrive pedal, I felt like I was tasting a serious French wine made by a guy who cared so deeply about doing things the right way that he knew what foot shape was best for smashing grapes. There are obvious reasons why Bill Finnegan's Klon Centaur pedal can go for over $1,000 on eBay – there are lots of clones, but nothing quite like the original. Theo Hartman has forgotten more about circuits than I might ever know; if you're looking for an envelope filter, it's almost unfair knowing the pieces that Mark and Theo had at their disposal to analyze, recreate, and improve on. Catalinbread made us put off developing a phaser, and Strymon's El Capistan delay gets raves for sonically recreating old tape units down to the flutter and pitch wobbles of their mechanical ancestors. While I'm not yet familiar with the other pieces on this board, (Neo Ventilator, Josh Smith Rocket Tremolo), if these products have earned a spot on Mark's board, players who care about their tone should give them a serious listen.
Our Wave Cannon has a particular kind of sonic nastiness that isn't fizzy, harsh, or sour, and complements the other fine gain and modulation pieces here. We are proud to have our product as part of Mark Karan's sonic arsenal – he's a great player who knows how to put these superb tools to proper use. For more information on this artist, click here to visit his site. To find a Wave Cannon for yourself, reach out to one of our retailers by clicking here.