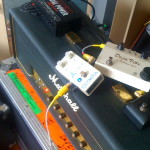 We've been really fortunate to work with Fat Tone Guitars as a retailer, so it's our pleasure to announce this run of exclusive cream colored Olympia pedals we've nicknamed "White Russian" with them. This version of Olympia is based on a fuzz I made special for my longtime friend Carter Gravatt from the band Carbon Leaf.
I know how Carter tends to stack overdrives, boosts, distortions, and fuzzes; at any given time, his lead tone can be a blend of anywhere from one to four drive pedals in series or parallel. He needed an Olympia voiced just a bit differently than the flamethrower we normally make – a little bit less fire and hair, abundant low end at lower gain settings, while still very capable of saturation. Don't let its two knob simplicity fool you – like our standard Olympia, there are a ton of tones in this thing, and it works terrific on bass as well!

This limited, exclusive version features intentionally mismatched germanium and silicon diodes in the first clipping stage, different biasing and emitter resistors throughout, and a cream finish with powder blue screened graphics exclusive to this run of pedals available from our friends at Fat Tone.  When they are gone, they are gone.
Below are two terrific demos of the pedals – one from Carter, and the other from our friend, producer and guitarist Taylor Barefoot. Enjoy, and if you dig the special version of this pedal, visit or contact Fat Tone here to pick up yours!