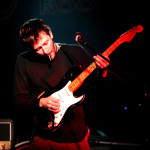 I've known Carter Gravatt for the better part of fourteen years. We first met when his band was cursed with a very unfortunate show at William & Mary. They were basically performing in an ornate echo chamber, and an overmatched student was trying to run the sound system. I could see Carter firing off flurries of Steve Morse-flavored runs on a big green hollowbody Gretsch, only to hear the crash cymbals getting brought up in the mix. He's playing much nicer venues now.
In those early years, we met and spoke only a few times in person, since we were touring in our respective bands that were hustling to make the most of mid-Atlantic audiences and A&R reps searching for a Dave Matthews Band to call their own. Yet he had no problem loaning me gear to try, and offering email or SMS back and forth counsel that would read something like this:
Philippe: Hey, have you guys ever played (venue) in (city)? What can you tell me?
Carter: I can tell you that upon reading that sentence I feel awful for you. Â How's that?
I really grew to appreciate his honesty, generosity, preposterous high-end gear consumption and command of the instrument. If there was anything I had *heard of*, Carter had heard, used, and developed an opinion about it.
Over the past decade, Carbon Leaf has thrived and succeeded in a music industry where most of our peers could not navigate the crashing rocks, armed and deadly suitors, or sirens and succubi. It's a testament to their songwriting musical talent, ambition, and good nature, of course. But most importantly, Carter and his mates deserve all the praise in the world for that most unglamorous and vital trait: grit. Back in the day, none of us kids fresh out of college were ready for prime time. But Carter and his mates worked, persevered, developed, got better at the things that initially held them back, and forged a career that has charmed fans and listeners at countless shows for years.
Instead of excuses, Carbon Leaf brought exertion. They wrote relentlessly, practiced deliberately at things that would make them and their shows better, toured ever improving venues, consistently brought out their fans and tirelessly went about the business of winning over new ones. The rest of us grumbled about our fortunes, the fickle tastes of the major label tastemakers as our post-game complaints about the umps and the calls.  Meanwhile, Carter and his mates kept grinding out runs and showing up the next morning for batting practice. Instead of confusing frustration for passion, they converted their desire into action. When people ask me about Carter as a player, I tell them "Of course he's good. He and his mates actually worked on all the things the rest of us waste time talking about."
It's an honor for us to have Carter using our Wave Cannon pedal (and as of April 2012, his custom version of our Olympia Fuzz!): first, because he's a hell of a player, with an uncanny ear and discerning taste for gear, but also, because he's a top-notch guy.