****SOLD OUT**** – and thank you again for being super awesome.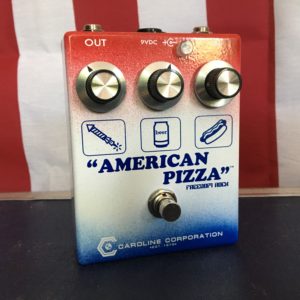 HOT DOGS! BEER! FIREWORKS! RED WHITE AND BLUE! ROCK FLAG AND EAGLE! This is "American Pizza: Freedom Rock*", a limited run of special 4th of July Hawaiian Pizza Fuzz-Drives that will have you throwing boxes of Earl Grey into the nearest public pool and insisting on ordering "freedom fries of exceptionalism" in the drive thru. What, they can't find those in the system??? Tell them you'd like to speak to the manager and then ask them WHY DO THEY HATE FREEDOM?
On the inside, a special pair of hand picked, hand tested, hand inserted, and hand soldered BC239 transistors bring the farm raised organic free range grass-fed heat for this one, for an extra chewy and tender flavor. On the outside, its festively appropriate icons are paired with the most triumphant color scheme in the history of civilization. Otherwise, it's the exact same spicy meat-a-balla magic you've come to expect from our delicious critically acclaimed and award winning Pizza. From treble boosting to mild clipping to Brit-stack crunching, you'll go further and things will get so wooly you'll wonder if your speakers joined a knitting circle. Need a reminder of how sick this thing can sound? Here you go.
*yes, we are aware, at this point, there's not even a pizza on the pedal anymore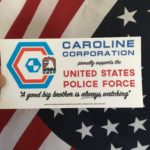 This special limited run includes a special sticker commemorating the greatest cinematic patriotic police force ever – the USPF from John Carpenter's classic Escape From New York. Our former parent company The Caroline Corporation were once proud sponsors, suppliers, contractors, vendors, and arguably borderline corrupt employers of the USPF! Those Senate hearings proved nothing. Hearsay! Speculation! We strenuously object!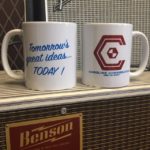 Also included with the pedal will also be our special "Lumberg" coffee mug, for drinking that delicious cup of Sanka or Foldgers the morning after you celebrate the dynasty of global dominance in the World Cup of Awesomeness that is the United States of America. And in the spirit of CHOICE you'll get to pick which knobs you want – the silver stove knobs or the big black amp knob. Shipped in the USA for the very patriotic price of $177.60 – commemorating the very first year of world history! 😉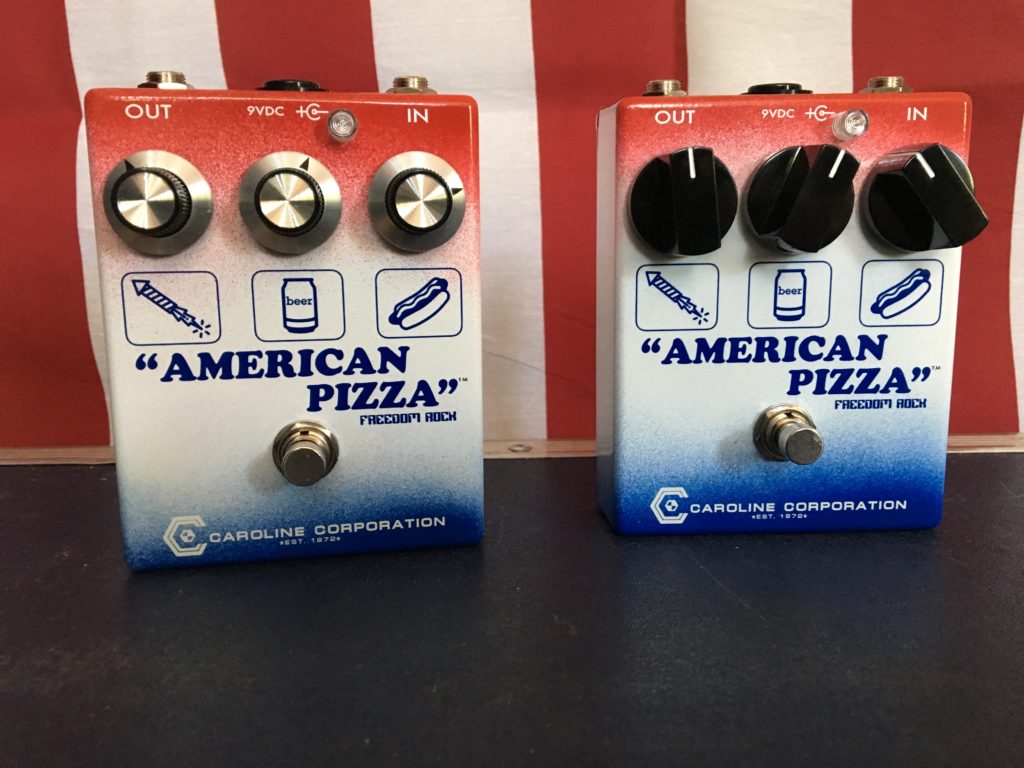 And as per our tradition on limited runs, we will be donating a portion of the sales proceeds from these pedals to benefit MIRCI – the Mental Illness Resource Center here in Columbia that does a lot of great work in our community. Because in our idea of America, we look out for people who need help, and we'll do our part to deliver it.
But wait! THERE'S EVEN MORE. Each and every pedal will include one playing card from the greatest imploding sports franchise of all time…the late 1980s to early 1990s Dallas Mavericks. And while all of these cards deserve to be treasured and feared, there's one which will "nothing but net" you something even greater. (see what we did there? you like?)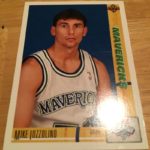 Mike Iuzzolino was a 5'10" point guard from St. Francis who ended up as a second round pick playing significant minutes for the 1991-92 (22-60!) and 1992-93 (11-71!) Mavs. Not particularly glorious years or glorious teams. But look at those career stats. 113-280 from the three point line….that's 40.4%! Imagine what the 2014 Spurs or 2016 Warriors would have done with a deadeye shooter like this. This was a man out of time. This was a young man from the basketball future!
So to celebrate the anachronism of Mike Iuzzolino, our own anachronistic brand will be giving away one (1) free Caroline pedal of the winner's choosing to the person who gets the Iuzzolino card. We'll just need to see a pic of the serial number on the inside of the pedal backplate and the card together (we know which one it is) and that lucky buyer will get their pic of Caroline pedal. Nobody rides for free with us, but this time, we're making an exception in the spirit of AMERICA and the 4th of July! (even though we're posting this on the 1st…because in America if you're on time…YOU'RE LATE)