It's Friday, and that means we get to eff around. Today on the YouTubes, I show and tell this HiWatt Custom 20. This thing is delightful and different and does clean and crunchy stuff with a very high powered EQ section. I highly recommend getting one for yourself.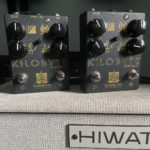 Today in the "extra stuff we get to part with" we have these two Kilobyte demo units from some display/trade show stuff we did years ago. These are very lightly used and work fantastic. They are soft touch switching versions with adjustable modulation on the outside, in the original (pre- "Kilobyte 64") graphics and charcoal/yellow colorway.
If you're the type of player who doesn't need tap tempo, who wants glorious lo-fi/analog voicing on your echoes, havoc on demand, and the ability to dial up driven and/or pitch bending repeats, you'll be thrilled with this pedal. These will be warrantied as if they were new Caroline pedals.
We also found two extra amazing red Caroline Corporation hoodies (in Medium and Large) and we'll put those here for the first come first serve.
Select what you want to buy below to pay via PayPal. Shipping included in the USA, additional charges will be invoiced for international purchases.
Thanks for letting us do silly stuff and have a great weekend.
goods sold out