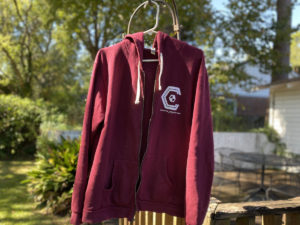 Friends, our team has faithfully rocked these Caroline Corporation hoodies at Caroline HQ–Satellite Office, Music Instruments Division and elsewhere for a year now. We've spilled takeout sauces onto them. We've fallen asleep on them. Our children and pets have drooled on them. We've gotten into totally smokey rideshare vehicles in them, aired them out in the sunshine, and gotten right back at it . They handle the wash like pros and this one has been getting more and more cozy.
So as we finally go in on hoodie season here in Columbia, we want to make these available to everyone.
These are very fine Next Level hoodies screen printed by our friends at Image Ink and they will get better and better looking as they age – just like you will. They're available in a fine burgundy color that will not let anyone confuse their basic whatever red hoodie for this one.
We're doing an advance limited run of these and we're making them available until end of business on Thursday, October 20th. Price includes USA shipping and all other fees, etc. If you'd like to own one of these and you are not in the USA, we can make that happen – we just need to invoice you for actual shipping fees!
ETA on shipping should be right around November 7th, 2022.