We get to have fun with things.
So here it is. The Caroline Vegetarian Pizza Special Limited. We could have just changed the icons, but we decided to have some fun. Imagine the sweet and savory sounds of our modern classic Hawaiian Pizza fuzz-drive, but with a more overtly deliberate hat tip to its heritage from classic silicon "face" pedals. It's a one-time run of 52 pedals, in a timeless, gorgeous hammered grey shade on the outside (thank you Coppersound Pedals for the recommendation!) and loaded with special NOS Phillips BC109 Silicon transistors and other tweaks in the audio path on the inside.
This thing is nasty. With the BC109s, the Veggie Pizzas are a bit more strident and singing at max gain, and a bit more open and clean at lower settings. Icons for "veggies" and " tofu blocks" replicate the range and functions of the "pig" and "pineapple" controls.  The starved settings go from squishy to all out broken, gated spittle. The crunch goes from "a barely there treble booster to help tighten the lows" to "is this a grey box 250?" to "is the wiring in this venue safe?" And of course, the onboard "pickup-ifier" ensures great performance even after buffers, other effects pedals, or wireless systems, while allowing you to turn it OFF if you run this thing in the classic fuzz "first position."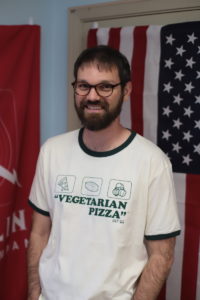 To celebrate this limited run, we'll also be including one of these rad off-white ringer t-shirts, modeled by our own Chris Gardner and locally printed by our friends at Image Ink, and we will be donating 10% of our sales proceeds to benefit Petsinc, a 501(c)(3) non-profit, no-kill animal rescue organization primarily serving the Midlands of South Carolina.
Backstory: Over the past year, we've had a number of customers very politely tell us "hey, your Hawaiian Pizza™ pedal looks and sounds awesome," but then they would express some discomfort with the iconography. They'd tell us that for personal, religious, or ethical reasons, our imagery evoking a pig as part of a food dish was something they were uncomfortable with. They were aware it wasn't a real pig. They were aware that no actual animals get hurt in any stage of the production. They were very aware that their concern could sound ridiculous. In each instance, they were personally accountable, and explained that a device that evoked the imagery of an animal being eaten was something they weren't comfortable with. At no point did anyone ask me to change it, but in some instances, they wished there was an alternative.
Now, in the spirit of full candor, my immediate, first reaction to this was "seriously, are you f––ing kidding me?"
But on reflection, it hit me. Life is short. People want to enjoy things. And when people want to enjoy the things we make, and don't seem that unreasonable or mean about it, and we don't have to go through a board of directors and a shareholders' advocate or an ombudsman to try out something that we might want to make for them…why not?
Now – for those of you who wish it was a vegan pizza…there is nothing on the pedal that says the cheese can't be non-dairy. Let your imagination run wild.