So I snuck back into the office on a Saturday night to borrow the Dremel tool for some home repairs, and I found Shannon and Michael Weiss from mewithoutYou setting up shop at our work benches. Mike seemed thrilled to find our space to his liking, and Shannon was helping him repair his board, cut and resolder his cables, and give his rig a bit of a recharge and adrenaline boost for their show in Columbia and remainder of their tour with an Olympia™ fuzz pedal.
A couple hours later, we were the recipients of a shout-out from Mike on stage as "two of his new friends in Columbia" as the band put on a terrific show, and later on in the week he sent us a couple great pics from the road.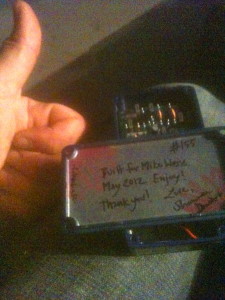 For those of you unfamiliar with mewithoutYou's work, their latest recording Ten Stories is a superb place to start, second only to seeing them live. Shannon had seen them numerous times over the past decade, but my introduction was a revelation. Aaron, Mike and their mates were passionate and furious, but never sloppy or out of control. Mike played twisting, jagged odd-meter parts that reminded me of Sunny Day Real Estate or Mars Volta guitar lines, but with less deliberate mathematical calculation and a natural, almost folky delivery, as if translated by Arcade Fire. Meanwhile Aaron tireless would run himself ragged singing and performing, collapse onto the stage like a tennis champion onto the court after a marathon rally, and then would re-emerge upright as if struck by an adrenaline needle, all while the drumming of Rick Mazzotta and the bass pulses of Greg Jehanian relentlessly drove from song to song.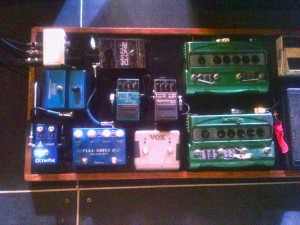 We were thrilled to see the updates from the road that Mike sent us – the inside of the Olympia™ fuzz pedal that Shannon built and inscribed for him (we personalize every pedal we make) and a shot of his revamped board with the pedal turned on and ready for action. "I ripped and shredded to my heart's delight during our set. Thank you so much!" said Mike's text, prefaced by the photo above and followed by the board shot to the right.
To find out where mewithoutYou is playing next, visit their site and scroll to the news and show dates. To hear an Olympia™ fuzz like what we made for Mike, visit the product page here, or click to find a retailer where you can try one out for yourself. – Philippe