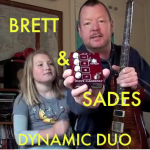 Brett Kingman is a superb guitarist from Australia whose YouTube channel is his conduit for demonstrating his favorite music technology: guitar pedals. There's good reason why Brett has thousands of subscribers: his videos are informative, the sound and video are clear, his playing is both technically adept and tasteful, and his daughter Sadie sometimes graces the screen to make the best cameo appearances. We hit for the cycle when Brett recently did a Wave Cannon™ demo.
In his demo video, Brett superbly shows off a quality of our Wave Cannon that we've been very proud of, but hadn't figured out how to best present: DYNAMICS. Seeing how a skilled player like Brett changes his pick attack and volume settings to coax different textures and levels of distortion puts this video over the top. Combine that with the variety of settings he dials up, a brief but eventful visit to the chaos of Havocswitchlandia, and of course, Sadie taking time out of her eventful schedule to say hello, and this demo just totally killed us at Caroline HQ.
We highly recommend this demo for those of you who are curious about the kinds of tones a player can coax from our humble distorter made in Columbia, South Carolina.