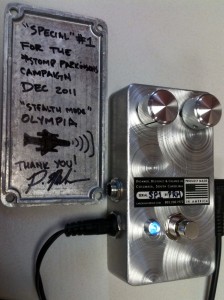 This pedal to the left is really cool. It's an Olympia fuzz with a couple tweaks to the circuit, a bright white LED and a specially polished, hand drilled case with shiny knurled aluminum control knobs.
The cause it is going towards is even better. We're donating all the proceeds from this auction to the 'Stomp Parkinson's' campaign., along with our friends and peers Analog Man, Montgomery Appliances, Catalinbread, Beavis Audio and a host of other great boutique builders. The proceeds will go to the National Parkinson Foundation.
To visit the auction for this pedal, click here or on the picture of the pedal. To see all the great auctions, check out the Stomp Parkinson's site. All of the auctions will be ending December 11th-13th.
And yes, we will be doing a Cannonball-style arrangement for the auction winner: a round of drinks or coffee on our tab and the chance to geek out and talk about gear. We even got a notary to certify this official document attesting to it.