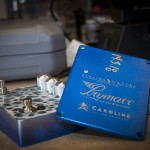 This feels appropriate for Memorial Day weekend. Prymaxe Vintage was interested in a run of our exclusive Cannonball pedals. Philippe's band mate in the Rival Brothers, Bobby Sutton, volunteers with Project Healing Waters, helping combat veterans with physical and emotional rehabilitation through fly fishing outings. Our pedal artist Noel Rodgers is also known for his paint work on fishing lures. We love when everything comes together.
To see more of these amazing one-of-a-kind pedals…
We're really pumped about this batch of Cannonballs that Noel put together. Applying the same techniques that he uses for beautiful fishing lures, these photos just can't quite capture quite how these change in light. Then our friend Brenton at Mr. B's Sustainable Glassworks sandblast engraved the Project Healing Waters, Prymaxe, and Caroline logos into the base plate. We top everything off in this series with knurled aluminum knobs that look great while complementing the colors Noel chose for each pedal.
On the inside, each pedal contains the Havoc control on a momentary foot switch, and a specially chosen clipping section and op-amp based on one of the original Wave Cannon™ test builds.  We also include beer bottle gasket strap locks, a commemorative hand stamped dog tag, and our signed manual and promise that should the owner ever be in Columbia, S.C., a round of drinks is on us.
A portion of the proceeds from the sales of these pedals will be going to Project Healing Waters. The mission of Project Healing Waters Fly Fishing is to assist in the physical and emotional rehabilitation of disabled active duty military personnel and veterans through fly fishing and fly tying education and outings. To learn more, visit their site here.
To purchase one of these pedals, visit or contact Prymaxe Vintage. Based in Garwood, New Jersey, Prymaxe is The New Home of Tone, dedicated to superb service in vintage, boutique, and top notch gear. Their site is here.
To celebrate the release of these special Cannonball pedals, we'll be giving away this Icarus™ boost pedal, serial number #124, in our new gold and navy blue color scheme we call "Sun and Sea" on Tuesday, June 5th. To enter, just "like" us and Project Healing Waters on Facebook or follow us on Twitter, share this post as a link on Facebook and/or Twitter, and you are entered in.
Thanks again for reading this, spreading the word, and good luck!