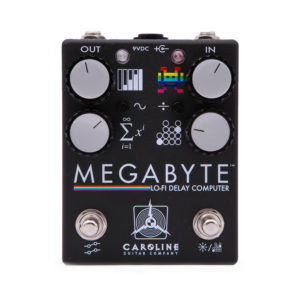 SOLD OUT. THANK YOU.
Are your cyborg bodies ready? You've asked us for this for a while – so we're giving you what you want!
MEGABYTE™ builds on our acclaimed KILOBYTE™ legacy with two old school lo-fi digital chips for more delay time, tap tempo with divisions, trails or true bypass, and a nastier, dirtier runaway havoc.
All of this is built around a straightforward (at least for us) and intuitive, immediately rewarding control setup. Less time menu scrolling, more time rocking and rolling.
Our Megabyte is scheduled for a wider retailer release in mid-February of 2020, and we have a limited number of a special advance batch to benefit a nonprofit that are available now.
There is a lot going on here, but you can relax – we're "hit me with your laser beam" focused on making this a dedicated delay pedal that isn't too much to deal with. After all, the manual still fits on a postcard!
Two PT2399 chips allow us to give you up to 1200ms of gorgeous delay time, available via the time control or tap tempo. The gain preamp still gives up to +21 db of drive on just the "wet" signal, so you can leave it clean, just boost the repeats, or make them super dirty. The wave trimpot allows you to dial up modulation from subtle detunes to noticeable warble and shifted pitch.
Tap tempo includes three repeater options available via the divide control – quarter notes, eighths, or dotted eighths. Hold down the tap button and the havoc self oscillation begins almost immediately.
The pedal is also set up for either trails or true bypass – the bypass mode will glow blue for trails (where the repeats that were in process are still heard after you turn the effect off) or red for true bypass. Simply hold the pedal bypass pedal down for two seconds to change the bypass mode.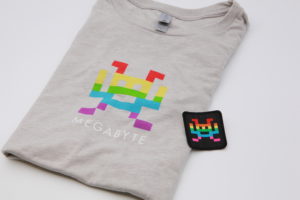 This is a pedal we've been waiting for and looking forward to. As part of this limited run in black with rainbow stripes, we'll be including a special tee shirt and "invader" patch in the purchase. We'll also be donating 10% of the sales proceeds from this run to Sexual Trauma Services of the Midlands, an excellent organization whom we're honored to support in their mission.
Massive thanks to my collaborators and co-designers on this project: John Snyder at Electronic Audio Experiments for his work on the hardware side, Scott McCombs at McOhms Labs for his work on the software side, and the team at Cusack Music for manufacturing these guts to our spec (and dealing with us in the process).
We look forward to some early adopters really enjoying this pedal – and to a wider retailer release in February! Thank you again for your support and patience, allowing us to make cool things.