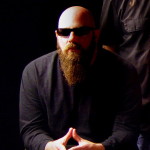 John Flannery made our week with an awesome email: "I picked up one of your Wave Cannons and it's working out great and I'm very impressed with it…I'm a full-time professional Composer/Producer/Musician/Engineer out here in LA and I've had just about every pedal out there and it's rare when something comes along that I haven't seen before.  Killer pedal..keep up the great work."
If you've managed to avoid living under a rock over the last fifteen years, there's a good chance you've heard some of John's guitar playing. Read more after the jump!
In addition to his work with his own band Too Rude, John Flannery has played and performed with some of the most impressive names in the music business.
John's impressive credits include work with legendary and discriminating producers George Drakoulias, Matt Hyde, and Dave Jerden. He has done soundtrack work for ESPN, the NFL on Fox, MTV and Spike TV (notably their very popular Ultimate Fighting Championship series), and worked with legendary performers including John Paul Jones, Mike Watt, Perry Farrell, and Monster Magnet. Perhaps our favorite credit of John's (so far) is his work on "School of Rock" with Jack Black, where he played the guitar and bass tracks for the film.
Why do we say "so far"? Because we look forward to hearing whatever John comes up with next, and contributing to the sonic arsenal he uses to create all kinds of huge sounds.