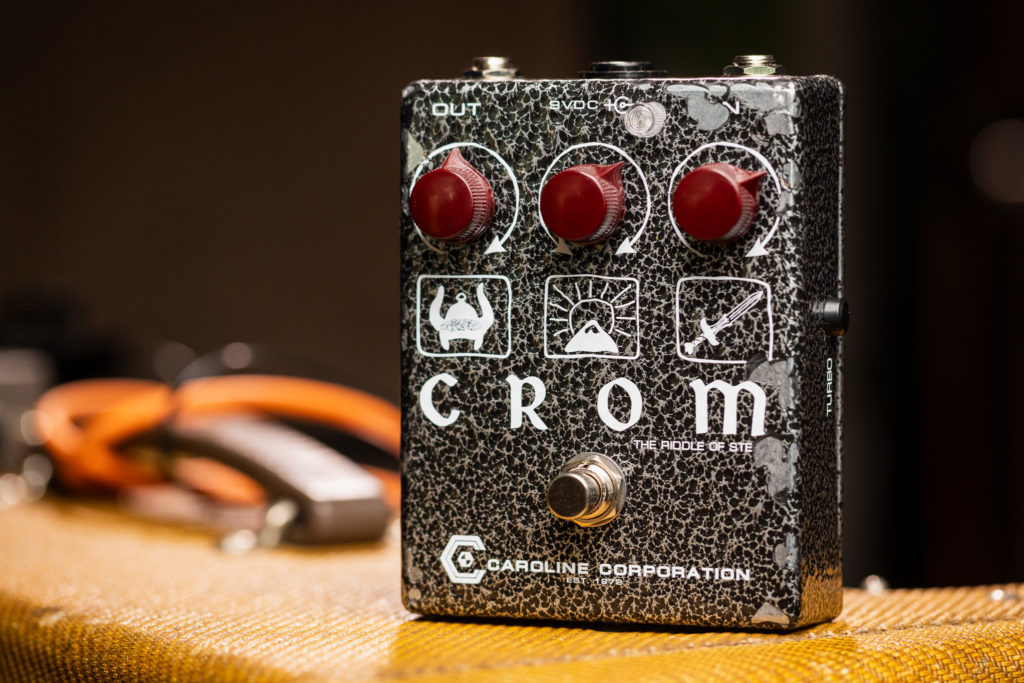 Hello friends! In our long (well, the last few years, actually) tradition of a special pedal release for July 4th, we present…the Caroline Corporation Strategic Reserve Limited Edition Heavy Aged Lava Rock Stone Age Crom™. Because nothing is more American than superlatives! This is a very limited batch of thirty (30) hand-wired pedals and when they're gone, they're gone.
SOLD OUT
This limited run edition boasts a few changes on the outside and a few tweaks on the inside for extra gnarliness.  You may have seen footage of me "relic-ing" these pedals on Instagram here. Each pedal looks slightly different based on the powder coat and the wear I imposed on each pedal. Some look *very* rough and tumble like the one pictured above. Others hardly have a scratch. The finish is a pumice-stone melange of powders from our friends at Disaster Manufacturing, and it's rocky texture is a perfect match for the neanderthal, stone age tones of CROM. Real deal oxblood Davies pointer knobs – similar to the ones on $5000 Klon Centaur pedals – elegantly top this pedal off, like Schwarzeneggar's Conan punching out a camel while wearing his finest leathers.
On the inside, these hand-wired fuzzdrives have been tweaked in non-turbo mode with deliberately mismatched silicon diodes and adjusting the cascading gain stages with the BC184 transistors. It's nastier and gnarlier; less of  the crunchy fuzz-drive sound of our standard CROM in non-turbo mode, and more overtly distorted. If the extra bass of our Turbo mode is too much for your amp or your mix, you can still get plenty of distortion in non-turbo mode.
On both the turbo and non-turbo side, we made a couple small tweaks to open the pedal up a bit more for a bit more hair on top. We think you'll dig it. Clips or it didn't happen?
About our charity donation: we think America is at its best when we try to help each other out. And there's been a lot of deliberate misinformation out there about debt relief out there now. One of the real downsides of America's market based health care system is how people can get saddled with completely unresolvable medical debt. So much so that the creditors themselves eventually realize they'll never get paid. RIP Medical Debt buys out bundles of that debt at pennies on the dollar, freeing people and communities from that burden.
We will be donating $1,000 from the sale of these pedals to RIP Medical Debt. 100% of our donation will be used to the debt relief program, with an estimated $100,000 of debt relief impact.
Pedals will ship out starting on July 5th because as we say, we don't sell pedal futures, we sell pedals!
Thanks again for letting us make cool stuff and do some good.