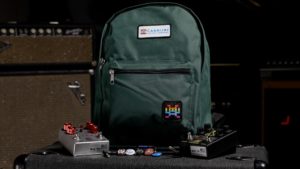 Classic results require classic solutions. We know that we live in a world of imitation and emulation.
But deep down, you know that in order to get timeless sounds and experiences, sometimes you need the old school craftsmanship, the old school materials, the old school components, and an old school approach.
The Caroline Corporation Vintage Pedalboard allows you to carry your stuff, dump your stuff out onto the stage, and then just put your stuff back into it. That ease of use allows you to focus on what matters most, because #youreanartist
The vintage pedalboard comes with the Black "Sports Reverb" Limited Edition Meteore Reverb pedals. Quantities are very limited.
Also comes with a cheap patch cable, a 9V battery, a random snack bag of our choice, three decorative pins, and a handful of guitar picks.
Get one for yourself, or your favorite artist. SOLD OUT – THANK YOU