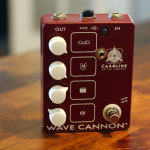 Effects Bay is a killer site and blog that tracks the goings on in the effect pedal business. It's run by people who LOVE pedals, gear, amps, playing, and finding cool new sounds. So when they say "This is a great sounding fuzz/distortion. We dug the creaminess of the fuzz, it has good low end and low mids," we take their praise seriously.
We were thrilled to see this great review of our Wave Cannon, and a terrific sounding audio and video demo as well. For those of you still on the fence about trying out our classic, fat, and rich overdrive and distorted sounds, hand crafted here by tone maniacs in Columbia, I hope this review puts it over the top. And if those weren't enough, the guys at Effects Bay then put the pedal into Havoc mode and made E.T. phone home.
We've gone ahead and included the video file from Effects Bay, as it is quite a good sounding demo that shows how well our pedal works with humbucker equipped guitars.  While our Cannon was initially designed to overpower dry, clean combo amps, and to make richer overdrive sounds available to single coil players, this demo, recorded with a Les Paul through a Rivera amplifier and a Marshall 4×12, shows how good the pedal sounds with a hot guitar and a big amp.
Interested in hearing and learning more? Email us from our contact page here. Care to try, or buy? Visit our retailers – they are terrific.