We've had a pretty good year here at Caroline, with a lot of very cool new people using our stuff. While we can't guarantee that all of them are using our handiwork all the time, we can promise that you can count on the same quality of work that they asked of us to deliver. Again, we don't give our work away for free: the people below are noteworthy customers – not paid endorsees – and we're pumped they genuinely dig our work.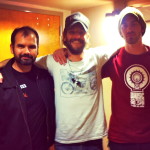 Maybe one of the best days we have had at work in this pedal game was delivering pedals to Ben Bridwell, the frontman for Band of Horses. It was a surreal moment to realize, as we were visiting and drinking beers with guests from Bell's Beer at our shop, that we had to say "we're sorry, as incredible as this sounds, we can't continue drinking your delicious beer at work on a Friday afternoon, because we have to go deliver pedals to Band of Horses." Per his request, we brought him a Wave Cannon, an Olympia, and an Icarus, and then shipped him a Kilobyte when it was his turn in the queue. Band of Horses then put on a KILLER show at the Township Auditorium here in Columbia – if you ever have the opportunity to see a good act here, it's a superb venue that we're proud to have here.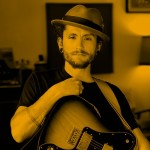 Over the past fifteen years, John Butler has achieved some remarkable successes in his musical journey. From busking on the streets to #1 songs in Australia and international hits in Europe and the United States with the John Butler Trio, Butler has always pushed himself both on his instrument and in his compositions. American audiences will know him best for "Better Than", which reached No. 1 on the Triple A format charts in United States in June 2007. Perhaps his most representative work is the instrumental "Ocean" which has evolved as Butler's technical proficiency and vision have only increased in scope from when he first become known. We were pumped to deliver the Butler Trio a pair of Kilobyte™ delays while he was on the road and in time for the remainder of his US tour dates.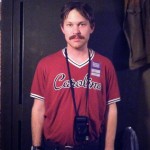 Full disclosure: we're pretty damn proud to count Jordan Blackmon and his mates from Columbia performing with Chaz Bundick as Toro Y Moi among our friends (though we might just be those strange guys making pedals in that messy shop downtown to them). It's been killer seeing these guys as they travel the world, playing to festival crowds, getting featured in videos on Pitchfork, and posting photos before playing places like hmmm…Red Rocks. A longtime user of our Icarus™ and Olympia™ pedals, Jordan caused us major jealousy at their chance to reenact Bono's "Sunday Bloody Sunday" flag waving antics (and respect for their self restraint in not doing so) when he posted this photo of his Kilobyte pedal from there.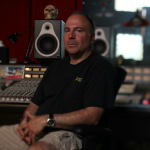 If you don't know producer Joe Barresi by name, you should from his work and his clientele. Check out his extensive discography and you'll see an incredible array of killer work Joe has done with Queens of the Stone Age, Tool, Soundgarden, The Melvins, Weezer, Monster Magnet, Chevelle, Wolfmother, and countless other bands of serious rock strength. We've been fortunate to visit with with Joe on a couple of occasions and knowing that he's picked up our pedals and put them to use is a serious bit of affirmation. Plus, his appearances in Dave Grohl's "Sound City" documentary were awesome!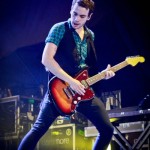 We heard from guitarist Taylor York that he wanted to get some of our pedals right before Paramore began their US tour. First we said "wait, the guy in Paramore knows who we are?", and then collected ourselves to see what work in progress on our shelves could be completed in a hurry. When your latest album debuts at #1 on the Billboard charts, and Rolling Stone declares your current tour your biggest to date, that's proof of a band hitting its stride. We're glad Taylor has picked up our work to come along for the ride.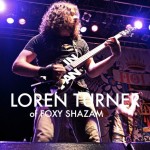 And last but not least, not by a long shot, was our getting to work with Loren Turner of Foxy Shazam. Foxy Shazam is one of these bands that have to be experienced live: the operatic bombast of Queen, the humor of The Darkness, AC/DC riffage, and so much pleasure that the listener runs right past 'guilty' and purchases property on 'uninhibited'. Loren met up with Patrick at shows here in Columbia, and purchased an Olympia to supplement his driven, fuzzy power.
To see more of the noteworthy artists who count on our work, click here. If you think we've given you enough proof to count on our work for yourself, please visit one of our retailers.