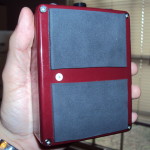 "What am I supposed to do with that rubbery sheet you include with the pedal?"
The self adhesive neoprene we include with the pedal allows you to apply a non-skid surface to the bottom of the pedal *if* you need it. The picture to the left is the recommended manner – cut into two 1.5″x3″ pieces.
Most pedals come with this material already attached. Â This makes it difficult for you to attach velcro if you're going to put it on a pedalboard. We save you that trouble by leaving the back of the pedal bare.
Thanks to Brian at Pigtronix for sharing this idea with us!