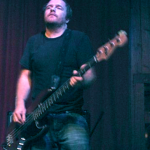 Hey, I'm a bass player and I'm used to hearing guitar pedals suck all the life out of the tone. How is the Wave Cannon as a bass distortion?
Great question. Sometimes the difference between a "bass" distortion and a guitar distortion is simply using a larger input capacitor to allow more low end into the circuit. We decided instead to voice the input and drive sections of the Wave Cannon to work well with both bass and guitar, as many guitar players also prefer a thicker low end.
It's a source of pride for us that three of the first ten people to place advance orders for the Wave Cannon after hearing our prototypes were bass players: Jay Matheson at the Jam Room studio, Chris Paget from Whiskey Tango Revue, and Kevin from American Gun, pictured in action.
We've heard firsthand from Philip Cope (Kylesa) that he uses the Wave Cannon to distort bass tracks when he's producing, as well as testimony from Brandon Kean while recording at Archer Avenue that the Wave Cannon was perfect for overdriven bass tracks that "stick" in a mix.
Yes, by making one product that works well for both, we have passed on a "market opportunity" for "revenue maximization". No Bass Cannon, no Accordion Cannon, no Farfisa Cannon, no "Wave Cannon Facial Scrub…FOR MEN" with manly navy blue colored packaging, sans serif fonts, and a 50% price increase. However, we do recommend using a bass with passive pickups if you wish to switch from the distortion mode to "havoc" mode to get the most out of the experience.