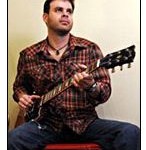 Brenton Sadreameli (Mr. B's Bottleneck Slides and Sustainable Glassworks, also here in Columbia) told me about John Tuggle and his online instruction courses and raved about John's technique, personality, and playing. Â As the YouTube video spooled up for broadcast, I was guardedly suspicious; forty-five seconds later, I was pretty much blown away. In addition to being a superior teacher with a relaxing, soothing demeanor, John Tuggle is a TERRIFIC, expressive guitar player. There's a reason his podcast is the top rated guitar instruction series on ITunes.

By combining a passion for music and a "never stop learning" attitude, guitar teacher John W. Tuggle provides a unique experience for his students.
John's slide guitar playing is what he has come to be known for.  Drawing from masters like Duane Allman and Derek Trucks, John combines elements of rock and blues with a classical technical approach, allowing many different sounds to come from the highly expressive slide guitar style.
Today John is a hired session guitarist and live player, but most of his time is spent with Learning Guitar Now, an online guitar lessons site that features slide guitar DVDs, blues guitar DVDS and guitar lessons downloads.  He has created over 23 instructional DVDs and has been featured on Gibson.com as a highly regarded blues and slide guitar instructor.  His Learning Guitar Now Podcast has had over 2,000,000 downloads and is currently the #1 guitar lessons podcast in the US.
The Learning Guitar Now YouTube channel has been just as successful with over 4,000 views per day and over 2,000,000 views in total.
As John moves forward he will continue to develop the site and look for more opportunities to bring his unique teaching style to those looking to learn the blues.
John is using an ES-335 Gibson hollow-body guitar and a Fender tube amp with our pedal. You can hear how dynamically the guitar, pedal and amp respond to the changes in his technique, especially around the 2:10 mark where he starts to dig in!
We are honored to have John Tuggle as an artist and user of our product, and encourage people interested in learning guitar to check out his site and videos!