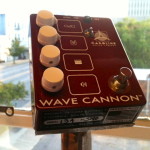 Our "small batch distortery / effect pedal manufacturing concern" here in Columbia continues to spread our wings/ extend our tentacles outside our home base/ safe haven of South Carolina!
We are pleased to announce our Wave Cannons are en route to two exciting new retailers : Tapestry Music in White Rock, British Columbia (that's in Canada, not New England, for those of you who struggled with U.S. geography) and Pro Guitar Shop in Portland, Oregon.
We've come a long way in our first year of development, and we cannot thank our customers, friends, and families for their support in making this possible. More good stuff coming soon – we promise!