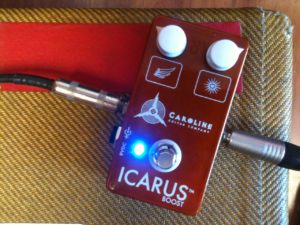 In 2011 we released the original Icarus Boost. Then as in now, everyone and their mother in our biz made small boost pedals. I think we made and sold a total of 437 of them over the next several years. It was a clean, full range, non-inverting op-amp booster and it did a thing that some people liked! It was fun.
Here's the special part: Around that time I befriended a local musician named Aaron Graves. Aaron was unlike anyone I'd ever met in any music scene. People spoke completely glowingly about him, without caveats. He ran an indie record label called Fork and Spoon that handled bands people were excited about. Graves had been a legendary skateboarder. His wife Jessica and friends played in his band, Those Lavender Whales. He basically encouraged Chaz Bear (Chaz Bundick) to pursue music, first with the Heist and the Accomplice, then eventually as the international phenomenon Toro Y Moi.
From this Oxford American article about Chaz Bundick/Toro Y Moi by Lauren Du Graf:(quote) If Bear did have a community where he made sense, it was among a group of white skateboarders from the Northeast who were into punk rock and making music (the Northeast refers to the suburbs-esque corner of the city, an area that in the past few decades has been developed with subdivisions and shopping centers). Bear's skater friends weren't your average hypermasculine bunch of bros; they were teased and beaten up, called "freaks" and "fags" for skateboarding and wearing skinny jeans. And they were into making music. The coolest guy in the group was A​aron Graves​, a pastor's son with a true sense of Christian benevolence. In the group, Graves was the first to have Pro Tools and a four-track, and it was at Graves's house that Bear got his first taste of bedroom production.
Graves was known as the baddest skater in the Northeast, which made people fear him until they met him. "I walked out of guitar lessons and saw this kid with a skateboard and long hair buying drumsticks," wrote Bear on Instagram about the first time he met Graves. "The only thing I could think to ask to break the ice was if he knew the local teen skate legend, Aaron Graves. He simply smiled and replied 'I am Aaron Graves.' From that point on, we met up weekly to skate and he essentially taught me everything I know today."
For his band, Those Lavender Whales, Graves wrote thoughtful and, at times, excruciatingly sensitive songs about wanting his friends to do well and feeling guilt for selfish thoughts, as in "The Arms of a Loving Community Around an Undeserving Individual":
"I don't mean to hurt anyone's feelings, but it just seems impossible not to do/ I don't mean to think about things inappropriately, but it just seems impossible not to do/ My friends circle 'round each other when one is in need, and they always seem to know what to do/ I always hope that one day I can help them out like that, but I never feel quite sure what to do"
"And not a drop of that was insincere," said Lee, who described Graves's sense of religion as "almost like the way Brian Wilson was like, 'Goodbye surfing, hello God.' Or John Coltrane. There's no reason not to love one another. He was a big influence on all of us. That's a big reason we never put anyone else down. If someone was impressed by me, I would say, 'You can do it too.' That'll never leave me."] (end quote)
Graves and his wife had potlucks at his house that were very well attended by any and all local scenesters or enthusiasts. This video for their song "Growth in Question" captures much of the energy. A more cynical individual groomed by media narratives about "hipsters" might have wanted to reflexively dislike the crowd, except that in meeting the gang firsthand they would discover very positive, sweet, kind and energetic people. I'd heard that their friends would get mildly bothered when people categorized them that way – "​hipsters? who are those people even talking about?​" – because in all truth, there was almost none of the snark or dismissiveness we might associate with any  stereotypes among Graves and his friends.
After he appeared in our "Shit Pedal Geeks Say" video stomping on a vintage Memory Man and debating himself about tap tempo, he and his collaborator Pat Wall asked me to mod their Icarus boosters so he could get some boost and drive but control the overall volume. So I modded it into an overdriver. Soon, I had other musicians asking me to mod their Icarus pedals the same way.
Shortly thereafter, Aaron was diagnosed with cancer in 2014. The community rallied behind him. Our local taco restaurant El Burrito donated the proceeds of their Tuesday lunches towards his treatment and help. Bluetile Skateshop printed t-shirts. We auctioned off a Graves style pedal and the winner promptly gave it right back to him. The cancer went into remission. Inspired and buoyed the support, from his friends, Graves and his teammates recorded again in 2017, produced by Bundick.
Unfortunately, his cancer returned in 2018, and Aaron passed away in June of 2019 at the age of 33. He is survived by his wife Jessica, daughter Elvie, and son Julian. He's missed dearly. His funeral was standing room only. There was an enormous potluck with hundreds of people. He's memorialized in this mural. What he meant to his city is something the rest of us simply cannot match up to, but we'll all be the better for it as we try.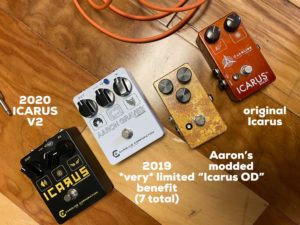 So anyway, that's the story of the new Icarus pedal. It's based on the modded Icaruses (Icari?) and the very limited "Aaron Graves Overdrives" of the past. We're proudly donating a percentage of the sales proceeds of this limited run to the Graves-Bornick family. If you're interested, there might be some here on Reverb.
Thanks for reading. – Philippe