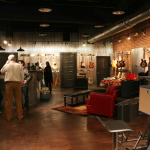 After a superb visit to Greenville, SC we are pleased to be part of Deluxe Guitar Exchange's stellar lineup of products. Deluxe Guitar Exchange just opened its doors in January, and it is a gorgeous spot with the cream of the crop in high end gear.
Among the fine brands you will find at Deluxe Guitar Shop: Collings, Bourgeois, Grosh, Fano, and Gadow in guitars,  Two Rock, Burriss, Reinhardt, and Carr amplifiers, and Caroline joining Tortuga, Maxon, and Nick Greer in the effector lineup.
Deluxe Guitar Exchange is located at 101-A Augusta St in downtown Greenville, across from the Warehouse Theatre and the Reedy River Park. Go visit Larry and try out some very nice stuff (especially our pedal).