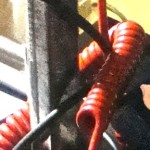 I would say that two/sixths of Caroline Guitar Company, being Philippe and I, spent the weekend at the Nashville Amp Expo, but saying there are only six pieces of pie would be a shameful exclusion of the members of our "family" that have been waiting with bated breath for our update: you, dear readers, Columbia, SC, and maybe the most important member of our family–Philippe's lovely wife, Jen. (They just celebrated their anniversary, guys!)
It was a big weekend for us as we shared our Icarus™ Boost and the Olympia™ Fuzz with those outside of South Carolina for the first time. Special thanks to our supporters through the Kickstarter campaign for funding the fuzz prototype which we demoed to rave reviews. We can all rest assured that once the fuzz and the boost are Carolina-bred and released to the world this fall, they will be ready to go out and make good choices, make bad choices, and end up with stories to tell.
We made the drive from South Carolina to Tennessee with our friends from Mr. B's Bottleneck Guitar Slides,–Brenton (Mr. B, himself) and Rob Newton–also based here in Columbia, SC. It was a great privilege to share our show-space with them. We are so grateful to the sponsors of this year's Expo, Creation Audio Labs and Pedaltrain–two excellent examples of drive and commitment to great sound and the use of quality tools to produce it. Major props go out to the planners of this event.
The three-day expo gave us opportunities to catch up with old friends, make new ones, and to celebrate the community of which we are very new members. We hung out with Phil Bradbury and his gang of session ringers as they shot sharp through Little Walter Tube Amps–they went crazy over Icarus™–so encouraging! We chatted with industry insiders (Blake Wright at What's That Dude Play?, Max, Joe, and John from Harmony Central, etc.), and discovered some treats you've been asking us to reveal ever since we got to Tennessee.
Here's the low-down on some of our favorite things from this year's Nashville Amp Expo:
Resonant Amplification: These guys were directly across the hall and a delight to be around–totally generous to us from the start. We got to try out some totally bangin' gear and everyone wanted to take home one of their Trophy Wives or Little Bastards.
D. Allen Pickups: Philippe confesses he is "pro-noise/anti-noiseless" but we all agreed that if you want crisp and clean, through some impeccable bling, you have got to get personal with this company. Philippe recorded a nice short demo of their pickups through a Wave Cannon here and there was almost zero noise even though Philippe was sitting on top of his amp and the Cannon was at 90% distortion!
Swamp Works Amplifiers: This group was so genuine and gracious every time we ran into them. We got to enjoy their sounds all weekend (even though we had to make an actual trek in order to jam with them in person): anyone who came to try out Mr. B's slides got to play through their Skrimp Creole. Mr. B was using a Wave Cannon on this trip and it was a whole new thing through this baby. I think we may have annoyed a lot of people on our end of the hall…
Jack Deville Electronics: We pretty much began and finished the expo with these guys, thanks to Devi Ever (look for Wave Cannons in her new shop, Effector 13!) and her prodding us to say hello to her boys from her homebase, Portland, OR. I was going to put a little heart around Philippe and Jack in this photo but I decided mentioning the idea would yield the same effect. We chilled hard way into the night and mixed it up over our pedals and theirs. We got to talk shop with superb artisans of guitar and gear, and were blown away by everything they shared at the expo. Check out their current boxes and look for some soon-to-drop gear from Jack & Cameron at Jack Deville Electronics. Truly refreshing.