Hello friends. It's a novel time for us at Caroline HQ. For starters – we're joining the 21st Century of gear world and releasing more YouTube content for you to appreciate!
For this vid, we'll be sticking to some gear talk. We'll be going on a bit of a 1990s gear deep dive for a few videos, and I hope you'll join us. I've had over thirty years to be intrigued by these Joe Barden pickups – from the Danny Gatton article in Rolling Stone, to the times I first tried and heard people gigging with them back in the day, and testing the Zion Ty Tabor loaded with these at NAMM in '97. What do I think of them now?
Also, we wanted to take a moment to sell some things and use those sales to fund our video adventures. Cause lordy, like gear hoarding dragons guarding our lairs in Tone Mountain, we've sure accumulated some THINGS. Who better to sell them to than our friends?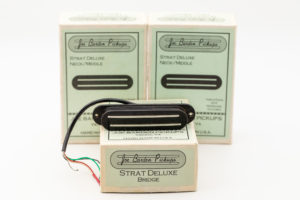 First up: the Barden S-Deluxe set from the video. 
Original 1990s Joe Barden pickups in the original Vienna, Virginia packaging (minus some foam.) All pickups measured correct to vintage spec, right around 4.49k DCR/2.23H. Don't be fooled by those numbers. These are plenty LOUD and clear. You can hear in the video how they pushed the Princeton when I dug in hard. Ridiculous clarity, super responsive, and no 60 cycle hum. As used by Gatton, Springsteen, "Dogman" era Ty Tabor, and many others back in the day.
These vintage, VERY hard to find pickups are in excellent shape – one insulator had a small burn where it hit a soldering iron, so I wrapped it in heatshrink to be safe and sound.  A similar set of Tele pickups from the same era with packaging is priced at $1,000 on Reverb while single strat models without packaging are listed at $193 each. Take this complete set off our hands for $499 shipped (USA) or $539 International. 
 Next up: Muffs!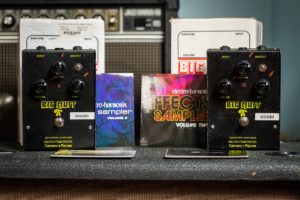 Alright. The story behind these V8 Black Russian Muffs : we received a batch of these early 2000s Russian BMPs from a friend, all broken and nonworking, who had cleared out a storage space for a good noteworthy singer/songwriter friend about a decade ago after the Nashville floods. The dead pedals been taking up space in their home, so we were sent all of them in exchange for getting a couple of them right and returned – we'd get to fix, keep and do what we wanted with the rest.
These last two from the batch have been lovingly restored and modded. They have the original battery door and feet – most don't. We replaced all the wafer thin Russia pots with much more robust 24mm Alphas and green Russian style big knobs.  We swapped out the fragile plastic jacks, installed a DC power jack with polarity protection, and new 3PDT stomp switches with board mods for true bypass switching.
Each pedal has two mods: on the sustain pot, a R-C circuit has been added to improve the performance of the pedal at lower settings. These BMPs now do a really solid medium overdrive/crunch sound at lower gains! The second mod is on a switch, fattening up the midrange. The nice part? If that mod isn't for you, simply switch it to the left and the stock sound is returned.
Reverb shows me unmodded Black Russian versions from starting from $159 in worse shape, without the battery doors, or useful mods like better jacks and pots, true bypass, or DC power in. Ours will ship in non-original later era 2000s EHX boxes with the CD sampler and brochure. These are cooler and yes, we'll tell the buyers who owned them first. SOLD OUT
And finally….this weird, wonderful monstrosity.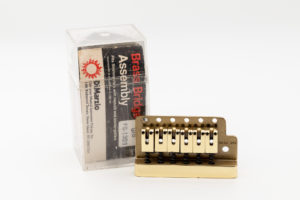 You're looking at a rare DiMarzio brass bridge from the late 1970s, made by Kahler USA.
It's a pretty damn amazing piece of kit. In addition to weighing a metric shit tonne, it's also really beautiful, similar to the big brass bridges on Fender "The Strat" models in the early 1980s. There's a hefty trem block in the container, promise. No arm.
One thing I really like about this bridge is that it's standard vintage 2-7/32″ spacing for the mounts – but it's 2-1/8″/54mm string spacing, just a hair more narrow than the standard, so it keeps the first and sixth strings a bit more comfortably on the neck.
These are rare as hen's teeth and nothing quite like these are made anymore. SOLD OUT
Thanks all! We've also reloaded on our t-shirts with CROM, Arigato, Hawaiian Pizza, and Lo-Fi/Wi-Fi back in stock!!!
We're looking to do more of this. Let us know what kinds of vids will inform and entertain you. Want us talking about our fave gear? Already in progress. How about sneakers? Movies? Sportsball? Need relationship advice? Want fitness tips? Clickbait? Making fun of YouTube "influencers"?

WE'RE HERE FOR ALL OF IT. Send questions our way via our contact page.