SHIRTS & MERCH
Other cool stuff, directly available from us.
SHIRTS & MERCH
Merch prices include USA shipping. International shipping is available but will incur additional charges and wait times.  Use the drop-down to select your size.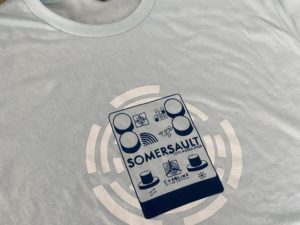 Somersault Shirt! Originally available only to customers of our limited advance charity run, we've now opened these back up, but with a nice Ice Blue color that is reasonably close to the color of this popular pedal.
We're glad to see how this pedal has caught on, and the shirt brings us the same joy.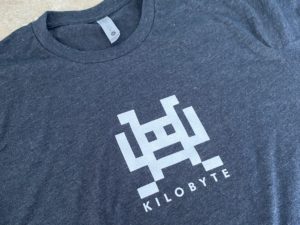 Kilobyte Shirt! We've brought back this classic due to customer requests for it. Simple, understated and super comfy, the single white attack knob "invader" on a charcoal shirt is like a secret code.
Those who know, know.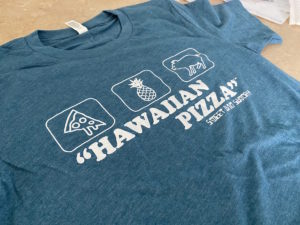 Hawaiian Pizza Shirt! This classy heather indigo blue shirt is a very comfy and stylish way to announce your commitment to pineapple on pizza – or at least to modern classic fuzz pedals committed to that mix of sweet and savory.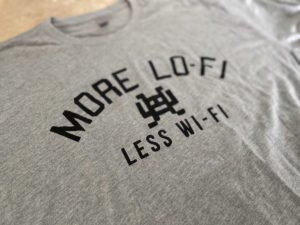 Lo-Fi/Wi-Fi T-Shirt! This comfy grey t-shirt feels like the softest pillow ever. And yes, we are well aware of the irony involved in that we are on the internet, selling you a product encouraging you to spend less time on the internet.
Here's industry legend Analog Man wearing his, and Philippe is wearing one in this video.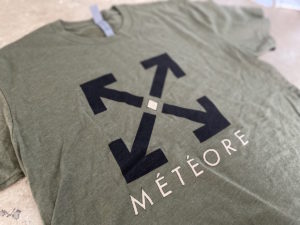 Météore Shirt!
Our best selling pedal ever deserves a relaunch of the classic tee that we gave our limited advance customers in 2015.
This army green shirt looks great on stage, in the studio, or at home while we stay busy getting ready for those days to return.
Megabyte shirt! We did it, friends. A successful follow-up to the Kilobyte "gateway drug to booteek" pedal deserves an updated accompaniment to the ubiquitous Kilobyte
"TI Invader" shirt. So this time, we went with a late 80s IBM PS/2 sand color and a rainbow attack instead of black and white.
Can you dig it?
If we have to wear clothes, let's make them ones we'll enjoy.