SHIRTS & MERCH
Other cool stuff, directly available from us.
SHIRTS & MERCH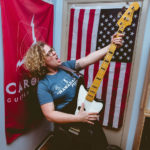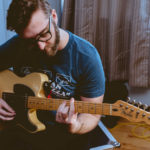 Hawaiian Pizza Shirt! This classy heather indigo blue shirt, modeled above by Johnnie Matthews (Elim Bolt) and Jess Oliver (Girls Rock! Columbia, Can't Kids), is a very comfy and stylish way to announce your commitment to pineapple on pizza.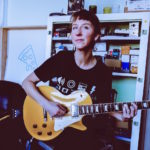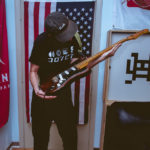 Shigeharu Shirt! This black tee with our "Columbia" katakana and control icons, modeled by Dylan Dickerson (Dear Blanca) and Sally Peek (Nana by Sally) will have people wondering if you moonlight as a leader of a futuristic motorcycle gang.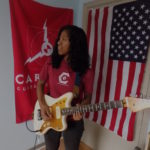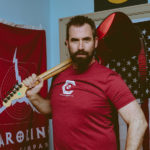 Caroline Corporation T-Shirt! This fine red tee, modeled by Ony Ratsimbaharison (fk mt) and Garrick Turner (Blocker) is emblazoned with our logo of our dysfunctional fictional corporate benefactors to allow you to operate undercover among the key lanyard crowd.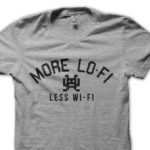 Lo-Fi/Wi-Fi T-Shirt! This comfy grey t-shirt feels like the softest pillow ever. And yes, we are well aware of the irony involved in that we are on the internet, selling you a product encouraging you to spend less time on the internet. Here's industry legend Analog Man wearing his, and Philippe is wearing one in this video.
If we have to wear clothes to avoid going to jail for wandering around naked, let's make them ones we'll enjoy.