SHIRTS & MERCH
Other cool stuff, directly available from us.
SHIRTS & MERCH
Merch prices include USA shipping. International shipping is available but will incur additional charges and wait times.  Use the drop-down to select your size. All of our shirts are very comfy nicely fitted blends that won't make you feel stifled in the hottest summers, expertly screen printed by our friends at Image Ink to be shirts that get better and better looking as they're worn in and age.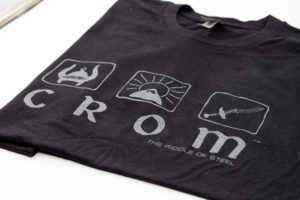 CROM SHIRT.  While it is custom among many cultures for believers to express their belief in a specific deity via their choice of garments, Crom neither approves nor disapproves of this shirt worn by his believers. The deity of Cimmerians like Conan, Crom is an angry god who lives in a mountaintop and couldn't care less for the affairs of mortals.
He doesn't grant wishes or answers to prayers, but he has gifted you the strength to destroy your enemies and the free will to determine what is best in life, including his eponymous fuzzstortion and of course, this tee.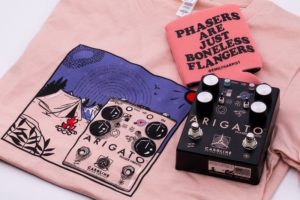 Arigato shirt! (Pedal not included, but koozies might be for a limited time).  Designed by Claudia @sketchypedals the campfire scene captures the warmth and joy of our phaser/vibrato. Is it a badass shade of peach that will bring attention to your wardrobe and presence? Absolutely.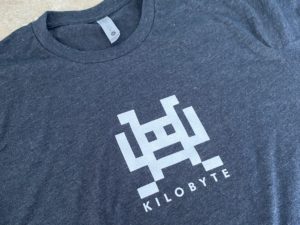 Kilobyte Shirt! We've brought back this classic due to customer requests for it. Simple, understated and super comfy, the single white attack knob "invader" on a charcoal shirt is like a secret code. Those who know, know.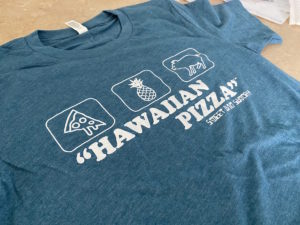 Hawaiian Pizza Shirt! This classy heather indigo blue shirt is a very comfy and stylish way to announce your commitment to pineapple on pizza – or at least to the original pizza fuzz pedal, committed to that special mix of sweet and savory.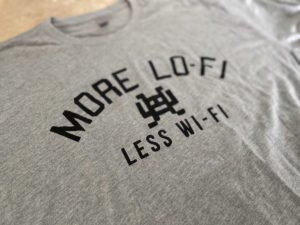 Lo-Fi/Wi-Fi T-Shirt! Our most popular shirt ever gets a reload. This comfy grey t-shirt feels like the softest pillow ever. And yes, we are well aware of the irony involved in that we are on the internet, selling you a product encouraging you to spend less time on the internet.
Here's industry legend Analog Man wearing his, and Philippe is wearing one in this video.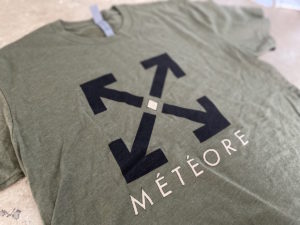 Météore Shirt!
Our best selling pedal deserves a relaunch of the classic tee that we gave our limited advance customers in 2015. This army green shirt looks great on stage, in the studio, or at home while we stay busy getting ready for those days to return.
If we have to wear clothes, let's make them ones we'll enjoy.