We're not doing discount chasing. Your work is worth paying for, and so is ours. So we're going to celebrate that by making some things that are special to us, hopefully special to you, and beneficial to people we care about.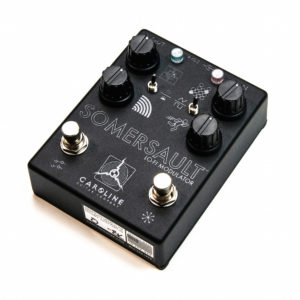 We'd be remiss if we didn't mention our first Holiday Special – one that you may already know about. We're honored to be part of Reverb's "Blacked Out" line with a limited batch of Somersaults in black-on-black for this one time special promotion.
With 19 pedals from 17 brands, the Blacked Out series has been quite a success so far, and we look forward to delighting people who've been intrigued by our Somersault™ lo-fi modulator, but waiting for that just right monochromatic shade to pull the trigger.
Available now at this link to reverb.com.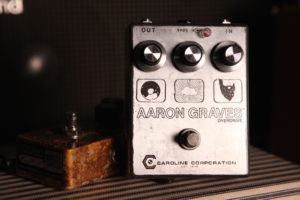 Aaron Graves was the kind of person you respected so much that he influenced the kind of person you wanted to be. He believed in putting others before himself to strengthen his community and never fell victim to opportunistic individualism.
He invested himself fully, earnestly and sincerely, and never hid behind the detachment of irony or cynicism. He was the type of person who not only found good in the world but strove to put it there. It is this goodness that we are left with. – Chris Gardner and Patrick Wall, bandmates and friends
AARON GRAVES OVERDRIVE IS SOLD OUT. THANK YOU, FRIENDS.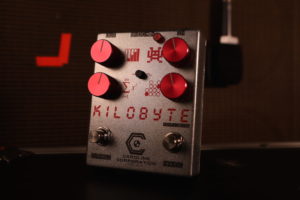 It's hard to believe that we first released our Kilobyte Lo-Fi delay as a Kickstarter project in 2013.  That's nearly seven years, a virtual eternity in pedalworld. Described as "a fave analog delay on steroids" by the likes of Nashville producer extraordinaire Dave Cobb, and "my gateway drug into boutique pedals" by our friend Cathy Begien at Datachoir, it's become a curious kind of modern classic. Even as delays have definitely gotten crazier and more wildly functioned, people come back to how the Kilobyte really just sounds great, with its gain preamp, gentle modulation and runaway havoc oscillation put to use on numerous stages and noteworthy records, including Tool's recent #1 release Fear Inoculum.
We're celebrating 3KB – that's 3072 (!) Kilobyte pedals sold – with this special edition. In addition to its graphical throwback to a limited "Knight Rider" release from several years ago, this red knobbed, "R5-D4" version includes a couple fun tweaks under the hood. The gain preamp has been increased 2.5x for even more crunchy repeats, and a slight mod to the clipping section makes the feedbacks and havoc even gnarlier. We'll be donating 15% of the sales proceeds of these Kilobytes to benefit MIRCI here in Columbia, SC.
Note: USA purchasers will have ship charges included. International purchasers will be invoiced for actual ship charges.
KILOBYTE R5-D4 IS SOLD OUT, THANK YOU