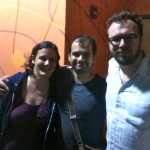 Jennifer and I are big fans of Gomez, from Southport, England – How We Operate was one of our favorite albums of the last decade, well worth the money we spent at Papa Jazz for our copy. When we found out they we were scheduled to perform in Asheville during our planned weekend "mini-break" there, we were pumped about getting to see them live and enjoying ourselves. Jennifer suggested that we reach out to the band and ask if they might be interested in trying out some pedals; twenty-four hours later, we had the pleasure of meeting some of the guys, heard nothing but raves about our gear, and a request to overnight another Olympia™ fuzz to Brooklyn to make it in time for the last shows of their Quinceañera tour. Yes, life IS good sometimes!
We're pumped to show you guys some of the pictures that they later sent us from the road of the guys and their gear. It's a real honor to know we've made stuff that works well on Ben and Ian's boards, and to count them among our customers. These were pedals pulled right off our production shelf, (and yes, I did hold my breath wondering what craziness we had written inside them until I heard the band was delighted) so you can be certain that you will get the same dedication to craft when you try our products at our retailers.
For those of you not familiar with Gomez's fine work, I strongly recommend almost anything they've released, but especially enjoyed Bring It On, How We Operate – (you've heard the title track or this one, we're pretty sure), and their latest, Whatever's On Your Mind. To Gomez, the Orange Peel, and all the fine places we visited in Asheville – thanks for the excellent mini-break. It totally hit the spot.