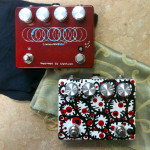 So we've had people tell us: "you know, you're making these Wave Cannons by hand, right? You really should be selling these things for $400 or more!" Well, if somebody's going to pay us something even remotely approaching that kind of coin, we're going to give them a real treat. They're going to get something extra special, rare, and crazy. They are going to get an experience. So here goes: our first entry into custom, one-off, hand-painted pieces. We call them: CANNONBALLS!!!!
More great info after the jump.
Each Cannonball is a special, one of a kind playable art piece. It includes our acclaimed Wave Cannon™ distortion circuit, but we put a couple special tweaks inside. Why would we mess with near perfection? Because it is hot here in the summer in Columbia, and we have to amuse ourselves! Then we load the Havoc switch, but this time we put it on a rugged momentary footswitch that you can toggle with your foot. Hold it down and unleash sonic hell, fuzzy craziness, and "Pole Position" whoops tuned by your guitar controls; release and you are back to our great overdrive and distortion tones.
Cannonballs also include the following extra treats:
*A signed card of authenticity replete with preposterous levels of pomp and circumstance
*A pair of Grolsch beer gaskets that double as the best cheap strap locks ever
*Should they ever be in Columbia, SC, an invitation to the original owner of the pedal to join us for a drink at one of our favorite watering holes on our dime. The bearer of this certificate is expected to have a conversation topic; should they be unable to afford one, a conversation topic WILL BE ASSIGNED TO THEM.
Cannonball #2 above is the red pedal on the left with our "chaos circles" diagram. It was hand painted and wired by Philippe in our shop. Cannonball #3 is the white pedal on the right. It was wired by Patrick Beardsley and painted by Laura Bennett, a renowned pedal artist known for her work for ZVex, Keeley, Penny Pedals, and Secret Seasons Electronics; you can read more about her work here.
These first two pedals will be shipped to Action Music, in Northern Virginia. As more Cannonballs are created and sent to retailers, we will post them. The retail list price of a Cannonball is $399, but our retailers can and will give a discount, so inquire with your favorite Caroline dealer if you are interested.
(So now you're asking: where is Cannonball #1? Well, we are saving that one for a special treat/announcement/charity event in the future. Please stay tuned.)