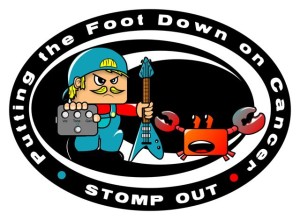 It was always in our plans to do something special with Cannonball #001 for charity. The last two charity events we contributed towards, the Icarus for Hidden Wounds and the Olympia™ for Stomp Parkinson's, were really successful. We also knew several other builders who asked to take part if we ever did something similar.
Once we decided that we were going to donate all 100% of the proceeds to the American Cancer Society, we didn't expect was for this idea to catch on quite this well. As we asked some builders to take part with us, others jumped in and offered amazing things. Their contributions go above and beyond, with a number of custom, one-of-a-kind, and difficult to find rarities. More details, photos, and links to the auctions as they post after the jump.
We will be starting the auctions the evening of October 2nd, announcing five pedals per night until the 4th, with the auctions concluding on 10/11/12. All of the effects made below are special pieces by some of the best effect makers around. Among the pedals and other goodies that will be auctioned off include a special Analogman King of Tone (rated the #1 pedal for blues by Guitar World Magazine, with a hotter "red" gain channel and currently only available with a one-year wait list outside of this auction), one of only four remaining Pedaltrain Pro pedalboards with a brushed metal finish, over $300 worth of cables from Lava Cable, and one of only five special pink Wampler Brad Paisley signature drives signed by Brad Paisley in the world.
Below are thumbnail photos of each of the items that were donated by these excellent builders. To view the complete list of auctions on eBay, click here or view individual items on the list below the photos. All of us involved want you to be blown away by our work and contribution towards this cause.
The complete list of auctions: Analog Man, Blackout Effectors, Caroline, Catalinbread, Coldcraft, Earthquaker Devices, Foot Fetish, Gearmanndude, Jack Deville "Mr. Black", Lava Cable, Lotus Pedals, Mojo Hand, Pedaltrain, Resonant Electronic, RockCr8, VFE, Walrus Audio, and Wampler Pedals. Happy bidding, and special thanks to Robbie Markel at Foot Fetish Pedals for the campaign logo.
And now, for a bit of an overheated personal soapbox rant/aside as to why we're doing this. In the aftermath of a recent cancer diagnosis within my family, much of what I do here at Caroline seemed incredibly trivial. It felt like a joke; here was something massive, life threatening and life changing, and I had nothing to offer in response. All this life had seemingly prepared me to do was fidget with capacitors on a breadboard, come up with cute control icons for an enclosure and figure out how to wire a bypass switch. And yet, as inconsequential as it seemed, it really was all that I have control over – make that next pedal, make it as best and as cleanly as I can, and make sure the deposits get made and bills get paid so that my friends and I can keep making pedals.
I think this has reminded me of how there is so much in this world over which we have no control. I believe the world can be an incredibly difficult, arbitrary, and unfair place, and I remember that belief affirmed repeatedly during my days as a professional musician, where anyone can easily find talent unrewarded and hard work not paying off.
And yet, on my best (and to be fair, probably most pompous) days, I *do* feel that what we do is important, and I believe that the other builders who have contributed feel the same way. I love my fellow musicians, as crazy as they may drive me sometimes. I try to think of what we do as craftsmen, arming them for this world through which they must make their way. If we can make something that gives them a sound that makes them feel more powerful, and if we can build something reliable that won't fail them when they need it most, maybe we're helping give our customers a bit more of a fighting chance to make it, whatever that means, in this world. A musician's life is an uphill battle, so anything we can do to keep steel in their toes and the spurs sharp on their heels as they "kick at the darkness until it bleeds daylight" (Bruce Cockburn) is a good thing.
Reaching out to my fellow builders, competitors, and colleagues, many of them mentioned how cancer has affected them personally. For months, I'd looked at the old Crybaby shell that we were going to finally finish into Cannonball #001, waiting for the right reason and spirit to compel me to do so. I picked up the enclosure and placed it on my bench, fired up the soldering iron, and started measuring lengths of wire for the bypass switch.  – Philippe