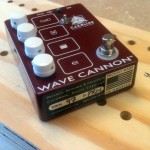 We used laser engraved badges on the first 125 Wave Cannons – 50 more than we originally planned.  When it became prohibitively expensive, our good friends at Velvetex here in Columbia came up with a great solution – a shiny brushed aluminum vinyl decal that looks superb, has a lower profile, and matches the typeface used on our graphics.
For custom print work, we highly recommend Bubba, Buddy, Cindy and the rest of the gang there. Plus, the smell of those old-style printing processes always leaves us a little lightheaded when we leave. In a good way.
The pedal pictured here will be going to our friends at 30th Street Guitars in New York City. We highly recommend Matt Brewster's shop as an excellent tone resource, and recommend you visit him and his crew for great gear, repairs, and advice. For more info and links to 30th Street and our other retailers, click here.