The Tone Chaperone has a confession. He's very ashamed that he's been secretly using a performance enhancing device called ALPHA GAIN. He's very sorry about this, while jet-setting across the world, working on brand partnerships with beef jerky companies, appearing on famous podcasts and preaching the tenets of ancestral real guitar sounds. He mislead people into thinking a diet of nothing but finely cured meats, salt, and his dietary supplement subscriptions while plugging straight in was what gave him his HUGE TONES. So now that he's been exposed, he has no choice but to offer ALPHA GAIN to you.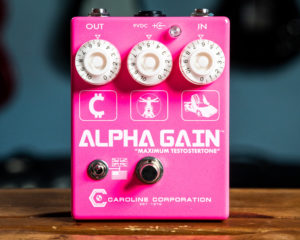 ALPHA GAIN:  "It's got what amps crave. It's nothing to be ashamed of.  You're going to like the way you riff. I guarantee it." Can it add transparent boost or punch? Can it make your crunchy amp absolutely tight yet molten? Can it do a thick drive on its own? Can your tone be thickened, swollen, engorged, turgid, or tumescent?  An enthusiastic yes to all of it!
Each Alpha Gain is hand-wired here in the United States at our workshop in Columbia, S.C.  Alpha Gains will ship the first week of April, 2023. We don't sell pre-orders, waiting lists or pedal futures – we sell pedals!  A super limited batch of only 54 units in *sparkly pink* are being released.  After that, it's been real.
Is ALPHA GAIN right for you? Maybe these clips will help.
The pedal clips the signal via an op-amp drive section and an array of silicon and Russian germanium diodes, while a second gain stage provides a lot of output and clean boost to push an amplifier. The UK voicing really amps up the drive side, lightens and tightens the bass a touch while pushing mids, and makes the output easier to dial up closer to unity or for a more of a controlled volume jump. The USA mode takes the power and applies it to the second, boosted gain stage. The drive is tailored to be closer to our Parabola's preamp section, but optimized for the silicon and germanium clipping array, and with the tone control for fine tuning. The thing gets plenty loud, is fuller frequency range, and stays clean until you mean it.
A portion of our sales proceeds (about 15%) from these pedals will be donated to The Trevor Project. The Trevor Project is an American nonprofit organization founded in 1998. Focused on suicide prevention efforts among lesbian, gay, bisexual, transgender, queer, and questioning youth, they offer a toll-free telephone number where confidential assistance is provided by trained counselors.
We feel the Trevor Project's work is vital, noble, and worthy of support, and still encourage you to support their efforts if you choose not to get a pedal.  SOLD OUT – THANKS