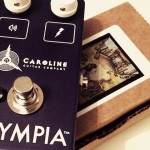 We were super pumped to read this killer review and listen to this superb demo of our Olympia™ fuzz by the site Gilmourish.com. Gilmourish.com is the largest David Gilmour gear resource on the net, where you'll find all you need to know about David's gear on all the albums and tours as well as lots of tone tips, gear recommendations, reviews and guitar topics of all sorts. Bjorn REALLY knows his stuff and nails the playing style of the legendary Pink Floyd axeman.
Our favorite takeaway from the review? " This works equally well on loud tube stacks as on the more neighbour friendly setup, which makes the Olympia an excellent choice for your bedroom amp and low volume levels. If you're looking for classic fuzz tones but need something a bit more versatile or bedroom friendly, then look no further. The Olympia delivers and gets my warmest recommendation." By design, we pushed Olympia hard because while lots of fuzzes can sound terrific with a large and loud tube amp clipping and compressing, most of us depend on cleaner, smaller, more club friendly amps and need the fuzz to also brings heat and punch.
Check out the full review here, or click below on the video to enjoy watching the superb demo by Bjorn Riis at Gilmourish.com. To find an Olympia of your own to try out, visit our Purchase/Retailers page.