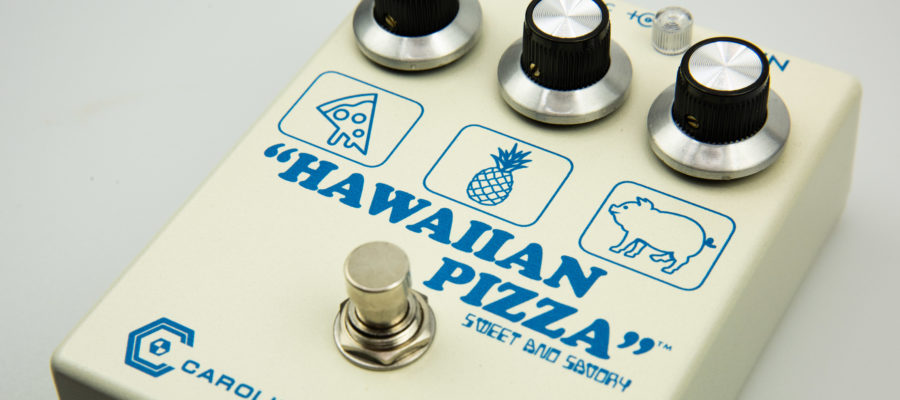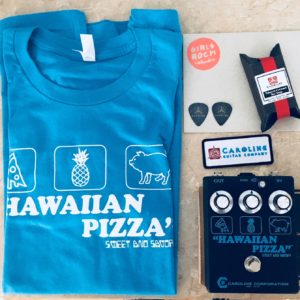 Capturing the essence of the world's most expensive, collectible, and unavailable amplifiers. The most crystal of lettuce, the most unobtanium of discontinued exotic zest of magic diodes, the newest old stock tubes of artisanal sous vide blockchain components, organic GMO free discrete integrated circuits, simultaneously wild, free range, and humanely farmed, wired point-to-point on holistically mindful, mil-spec bespoke circuit boards.  Its bypass is not just "truthful" – it is unflinchingly candid. Worthy of all the years you spent on a waiting list, the Hawaiian Pizza is the sonic equivalent of a forbidden delicacy. It's nothing but three knobs and the truth*.
A portion of the sales proceeds of these introductory pedals will go to Girls Rock Columbia's tuition fund. For young campers whose families might not be able to afford the full tuition fee, this fund allows them to be part of this excellent program that helps them develop teamwork, decision making, and leadership skills.
*(and…the truth is that it is an unbelievable sounding and versatile fuzz-drive, an elaboration on a classic fuzz circuit with some special twists by Philippe and John Snyder of EAE, one that can handle being placed anywhere in the signal chain thanks to an internal passive guitar pickup simulator, and has a myriad of rad sounds available from just three interactive controls! And if you think it should sound like a certain expensive amplifier because of how it looks, don't worry – we'll let you tell yourself that!)
Put this in front of a clean amp, crank things up and prepare to be frightened. Or put it in front of a crunchy amp, dial it up just a little bit, and wonder where this thing has been all your life. You can blame Grammy winning producer Dave Cobb (Jason Isbell, Sturgill Simpson) for this pedal. He geeked out with Philippe about something over the phone, and years later, we misinterpreted what we talked about into making this.
Our special introductory run of this handmade pedal is a very limited batch in BLACK and aqua with a commemorative aqua t-shirt,picks, sticker, an iron-on patch, and a very special and fragrant bar of soap from our new friends at Wicks & Scents. This pedal can get so dirty, you might need to wash off after every rehearsal or performance.
All sound files below recorded very simply: a 1976 Stratocaster into the pedal, to a 68 Deluxe Reverb reissue, and into ProTools. No further editing, compression, or EQ was done. Each track starts with a clean tone, and then the effect is kicked in.
And here's our ridiculous YouTube video: