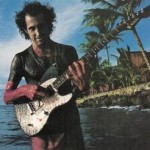 When I saw the email asking some questions about the Wave Cannon end with "Henry Kaiser, Berkeley CA", I couldn't let that last part go. So I had to ask: "Are you the Henry Kaiser, known for experimental and improvisational guitar playing?"
What followed may be among the most interesting email threads I have had in a long time – and we barely mentioned anything about gear, playing or music.
First the background info: Henry Kaiser has played on over 200 records (so far), and the many artists he's worked with are undeniably impressive: Richard Thompson, Bob Weir, Michael Stipe, David Lindley, Nels Cline (Wilco), Fred Frith, and countless noteworthy others. With Lindley, Kaiser also composed the soundtrack for Werner Herzog's films The Wild Blue Yonder and Encounters at the End of the World, and contributed as a feature musician to the soundtrack for Herzog's highly acclaimed 2005 documentary on Tim Treadwell, Grizzly Man.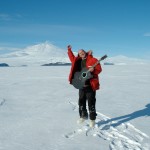 Now, if that were all he has done so far, it would make for a pretty cool life. But Kaiser is also a research diver and oceanographer who has spent extensive time in Antarctica, first under the auspices of the National Science Foundation's Antarctic Writers and Artists Program. Footage from his initial visit is reported to have inspired Herzog's Encounters, and some of the subsequent material that Henry has filmed under the polar ice caps on return visits is just straight up mind-blowing – we highly recommend that you check it out here. When I asked him if seeing this kind of incredible, real world scenery in person ruins "virtual universe" spectacle movies like Avatar or Tron: Legacy for him, his response was priceless: "yes - those kind of movies are about as exciting as the COUNTRY BEAR JAMBOREE attraction at Disneyland" (Ha!)
Along with the late Derek Bailey, Kaiser has been a pioneer in experimental guitar techniques, sound, and melodies for decades. These works are not for everyone; some people find them trailblazing, and others who have certain expectations of key structures, tonalities, and resolutions just don't get it. I fall into the former (and not just because he said the Wave Cannon was 'really cool' after he got one).
First, there is a fantastic vocabulary of guitar sounds and noises that listeners now take for granted, such as the high pitch bent squeals of Tom Morello, the pick scratches and scrapes of Kurt Cobain, or the interval jumps of Ani DiFranco. All of these directly came from or are the spiritual descendants of the sonically challenging work that Bailey and Kaiser have done for decades. Second, while pursuing this esoteric and experimental path, Kaiser has always played and pursued his music with a sense of levity and fun. Who else would assemble a group of total ringer musicians to cover ZZ Top's boogie classic "La Grange" in Russian, and enlist "The Simpsons" creator Matt Groening to do the album cover art?
We are grateful and proud that Henry has added our humble little noisemaker to his sonic arsenal, and invite our (more sonically daring) fans to explore his portfolio here. As our friend Steve Armato at Vintage One Guitars said, "there's a guy who can put the havoc mode to use!" Now enjoy the boogie – cosmonaut style!