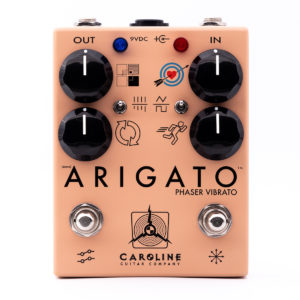 Well well well! It's happening. For years you've asked us for a phaser. "I bet Caroline would absolutely rock a phaser." I've always kind of wondered what it was about us that made you think Caroline needs to make a phaser – but we've never disagreed. I felt compelled to try in 2017, but we made Parabola™ instead. Then in 2019, I felt the pull again, but we pursued Somersault™ because it made us (and you all!) really happy. So when it came time to FINALLY produce and release the Caroline Phaser, we wanted it to be a love letter to this effect, to our audience, and express our gratitude for the work we get to do and the sounds we get to pursue.
Henceforth, the effect shall be known…as ARIGATO. And it shall go to wide release in that luxurious coral/peach shade very soon.
Before we get too serious…let's enjoy the fun stuff. First, the video. This should give you guys a taste of some of the sounds we've found in Arigato (though you folks always take it way further) and what this release means to us. Like all of our work, it can go from subtle to wild. Enjoy!
Limited edition sold out
Now, about our cause for this release: decades ago, my late father Ray Herndon was a journalist in Dallas, Texas.  He received an inquiry from a convicted felon named Anthony Woten who sought help overturning his sentence for an armed robbery he said he couldn't have committed as he was hitchhiking hundreds of miles away.  His efforts lead to securing a long missing alibi witness, physical evidence that established the accused was far away from the crime scene, and testimonies from everyone involved – including the actual perpetrator serving time for another conviction. From his efforts, Woten was pardoned and released, and Ray Herndon was a finalist for the 1991 Pulitzer Prize in Investigative Reporting.
In that spirit, we're donating $30 from the sale of each of these advance limited pedal to the Innocence Project. I'm not sure if *enjoying* is the correct term, but I've been following Jason Flom's Wrongful Conviction podcast and I believe that the Innocence Project's work to free the innocent, prevent wrongful convictions, and create fair, compassionate, and equitable systems of justice for everyone has never been more necessary or vital.
If the name of the pedal isn't enough of a hint…thank you for supporting our work and allowing us to do cool things.