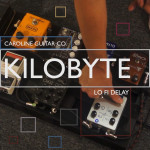 This has been a long time coming for us. We're thrilled to announce the pending release of our Kilobyte™ lo-fi digital delay pedal. Read more to see how you can order this pedal.
Using a digital delay chip for echoes, we've tailored an analog dry path that maintains the integrity of your guitar signal, then followed it with a dedicated overdrive/boost preamp that only affects the repeats. After the digital chip does its dirty magic and creates repeats, the Kilobyte then allows you to blend those echoes back in with your unaffected signal for a powerful, warm, and dynamic tone.
The Kilobyte™ is available until 10pm EST Friday, January 18th via Kickstarter. If you are interested, you can visit our project page and order one of the first Kilobyte pedals here. Below is the video and teaser trailer for the project. This video was shot and edited by Greg Slattery, and audio was recorded and edited by Zac Thomas at the Jam Room Music Studio here in Columbia, SC.
And here is a demo we just finished where we go a bit more in depth on some of the features, namely the purity of the analog (dry) signal path, dirty echoes, and the fun oscillations. This video was shot by Jessica Oswalt, edited by Michael Coleman, and audio was recorded and edited by Eric McCoy at Archer Avenue Recording Studio in Columbia, SC.