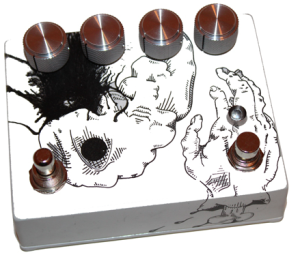 We're kind of bullish on Justin Cooper – he's a local artist who is doing things we just haven't seen very often in the pedal world. We were introduced to him when our builder and All Get Out bassist Michael Rogers had Justin craft his personal pedal. His work is highly detailed, energetic, occasional discomforting, and even better to look at in person. We were completely fired up when Justin delivered his latest masterpiece with this enclosure. We really look forward to showing you more from Justin as he continues helping us make these awesome pedals.
(Other examples of Justin's Cannonball work)
In his own words: "My name is Justin Cooper. I have a deviant art website and a tumblr. I do fantasy football and play an excessive amount of video games. I originally got my artistic inspiration from Ralph Steadman but have strayed away from that messy style significantly due to my perfectionist nature. I no longer find any inspiration from art or artists, I only get that from music. I would describe most of my art as character studies of the flaws in people. I am interested in capturing people at their most depraved moments (hence the rigid lines in faces and accentuated proportions). I do no preparation for any of my art. No initial sketches or planning. Anything you get from me will be unplanned and raw and I don't see that changing"
This one-of-a-kind Cannonball™, the first pedal we've made available to the public from our work with Justin Cooper, is going to our newest retailer, Megatone Music in Smyrna, Georgia, along with our other handcrafted pedals. Megatone Music's mission, as a company, is to help guitar and bass players find their voice and tone artistically by providing personal service in selecting the proper instrument through evaluation of a player's musical style and ability. Darryl Arthur, the owner of Megatone Music, really gets it and cares deeply about how every piece of gear can really contribute to your sonic identity and playing enjoyment. To see what Megatone is carrying of ours, visit their page here.