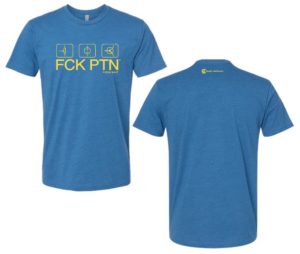 Since we sold out of the FCK_PTN version of the Hawaiian Pizza fuzz, we've had people asking about a tee-shirt instead. So here's what we're proposing: $35 shipped (USA*) shirt, advance orders, with all sales proceeds above costs to be donated to World Central Kitchen and the ICRC's efforts in Ukraine.
The benefit of all proceeds over costs is that it allows us to cover the costs for our partners at Image Ink to print shirts, and the more shirts we sell, a higher percentage gets donated as the per-unit cost goes down. My expectation is that at least 50% of the sales proceeds will be donated.
*Purchase price includes USA shipping. International purchasers will be invoiced for any additional shipping charges. 
Pre-sale window until 3:00 pm Monday, March 7th. Choose your size in the drop down menu.
Thanks friends.